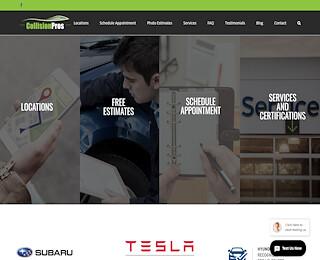 The appearance of your vehicle is as important as its mechanical stability. When your vehicle has been damaged you need to have it repaired by a professional Auburn auto body shop. It can be extremely expensive to take the vehicle to a dealership for cosmetic repairs because they typically ship it off to a third party for repairs. Instead, take your care to a repair shop that provides high quality repairs that are factory-authorized. This means that the repairs will be made according to the high standards of the manufacturer and that quality parts will be used to ensure lasting results.
Professional Auburn Auto Body
The first step in getting your vehicle repaired is to obtain an estimate. You should take your car to a reputable Auburn auto body shop to obtain an estimate from an experienced company. The estimate should include all work that is related to the specific accident or incident that caused the damage so that it is adequately covered through insurance. At Collision Pros we offer assistance to our customers every step of the way. The process of getting your vehicle repaired doesn't have to be difficult or stressful. We will work with the insurance company to ensure that the proper repairs can be completed.
Then, we work to complete your vehicle's repairs as quickly as possible. When you drop off your vehicle you can take our convenient shuttle where you need to go. In some cases, we will pick-up or deliver your vehicle to you. We also offer simple rentals while your car is in the shop through our partners, Enterprise and Hertz. We are available to take you to pick up your rental vehicle.
Expert Repair Services
At Collision Pros we have the expertise, experience and training to complete all types of vehicle repairs.  We are certified to provide repairs that meet or exceed the specifications of the manufacturers. Our technicians attend manufacturer training to ensure that they are able to properly repair your vehicle in a professional manner. As a result, you can rest assured that your vehicle will be repaired and restored to the condition it was in prior to the accident.
We warranty our services for the life of your vehicle. Your repairs are covered for as long as you own your car We work hard to make sure that the repairs are made using high quality materials and workmanship. We want to make the repair process as easy for you as possible. The work will be completed on time and in budget and we will make certain that you are completely satisfied with the work we completed. You can view some of the many positive testimonials from previous customers and many return again and again when they need Auburn auto body work.
Collision Pros is certified by I-CAR and Assured Performance Network and we take part in the Assured Performance Collision Care advocacy group for consumers. Only the best auto body repair companies in each community across the country are included. Visit our website at CollisionProsInc.com to learn more and to schedule an appointment.
Auburn Auto Body
Collision Pros Inc.
(530) 885-3320
3760 Grass Valley Hwy, Auburn, CA 95602
View Larger Map