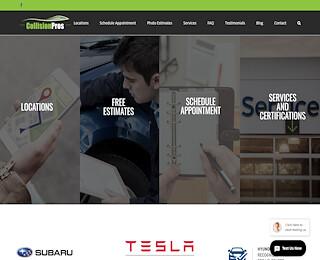 Whether your vehicle was involved in an accident or is simply in disrepair, you need the services of a professional Auburn body shop. An experienced body shop is necessary to ensure that your vehicle is fixed using only the highest quality parts and workmanship. While you can't go back in time and prevent the damage, you can choose an Auburn body shop that will help bring your vehicle back to its beauty and functionality.
Choosing an Auburn Body Shop
There are several things to consider when choosing an Auburn body shop. One of the factors is the experience of the repair shop. You want to have your vehicle repaired in a professional manner so that its value is not reduced by shoddy workmanship. The Auburn body shop should provide a warranty in writing so that you feel comfortable with the repairs and know that you can always return if any problems occur while you still own the vehicle.
Collision Pros is an experienced repair shop that is certified by I-CAR and Assured Performance Network as well as takes part in Assured Performance Collision Care, a group that advocates for consumers. Only repair companies that meet the high standards and criteria of the Assured Performance Network, APN and APCC can call themselves "certified" or "qualified". Only a select few repair shops across the country are part of these groups.
Estimates and Repairs
The first step in the repair process is to obtain a written estimate. The estimate will provide you and your insurance company with the exact repairs that are necessary including both materials and labor. We will work with your insurance company to make sure that the proper repairs are approved. An estimate may take only 15 minutes so you can stop in and have it done at your convenience. If the vehicle is not drivable the estimate may take slightly longer.
We will schedule the repairs on a day and time that is convenient to you. We will provide complementary shuttle service to the local area or to a car rental company. We have agreements with Hertz and Enterprise car rentals if you want a simple rental while your car is being fixed. We are happy to help you schedule a rental vehicle. We also offer convenient pick-up and delivery options for local areas.  
High Quality Repairs
It is important that your vehicle will look and perform exactly as it did prior to the damage. This can be accomplished with high quality repair work that is done by a qualified company. At Collision Pros, Inc. we guide you through the repair process and will explain everything to you along the way. The entire process will be easy and you will be completely satisfied with the work once it is completed. Getting your vehicle repaired has never been easier or more efficient. Our team is here to help make sure that your vehicle is returned to its original condition. Visit our website today at CollisionProsInc.com to learn more about our excellent repair services and to schedule an appointment.
Auburn Body Shop
Collision Pros Inc.
(530) 885-3320
3760 Grass Valley Hwy, Auburn, CA 95602
View Larger Map