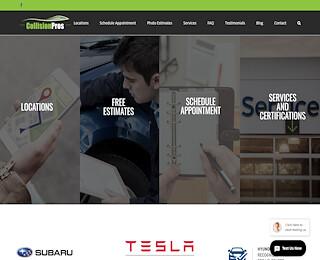 You might be distressed and unsure about what to do after a car accident. When you need repairs to your vehicle the first step is to find a qualified shop for auto body in Chico. Choose a shop that provides high quality repairs that will ensure that your vehicle maintains its value over time. You also want to make certain that repairs are completed in accordance with the manufacturer's recommendations. It is also helpful to get a warranty on the repair work so you can take your car back if necessary while you own your vehicle.
Quality Auto Body in Chico
Quality repairs are essential to keeping your vehicle looking and performing at its best. It is necessary to ensure that the shop that handles auto body in Chico has the experience required to fix your car. One thing to consider is whether the company offers any type of warranty on their work. At Collision Pros we provide a lifetime warranty. Our work is guaranteed to last for as long as you own your car. You can be sure that the repairs will be done properly using only high quality materials and workmanship.
To get started with a vehicle repair it is always best to obtain a written estimate. An initial estimate may take less than 15 minutes for vehicles that are drivable. You can easily get an appointment or stop by for a fast and free estimate for damage repairs. When you are ready to fix your vehicle we will work with your insurance company to make sure that all of the necessary work is covered.
Choosing Auto Body in Chico
One of the best ways to make sure that auto body repairs are made properly is to choose a company that has technicians who are trained and certified by manufacturers. Today's sophisticated auto technology requires advanced expertise. At Collision Pros our team members are certified to provide high quality repairs using original equipment manufacturer, OEM parts.
In addition, Collision Pros is authorized to perform aluminum repair and is certified by I-CAR and Assured Performance Network. We also take part in a consumer advocacy group called Assured Performance Collision Care, an elite group that includes only a select few auto body shops from cities across the country. Our work is certified and meets the established standards and published criteria for auto repair work.
High Quality Auto Repair
When you choose high quality auto repair you know that your vehicle will be fixed to its original condition. It will look good and retain its value as it was prior to the accident. Collision Pros repairs begin with an estimate. We will provide a free preliminary estimate for your convenience. We will work with the insurance company so the entire experience is as easy and stress-free as possible. We'll answer your questions, explain the repairs and help get your vehicle repaired as quickly and efficiently as possible. Contact us at CollisionProsInc.com to learn more about our repair services and to schedule an appointment.
Auto Body Chico
Collision Pros Inc.
(530) 885-3320
3760 Grass Valley Hwy, Auburn, CA 95602
View Larger Map