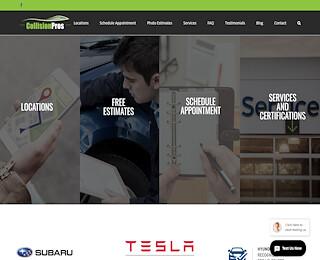 If your vehicle was involved in an accident or has suffered damage you need to have it properly repaired. Regardless of the make or model, you want the repairs to be done properly and you want to receive a warranty for the work from a reputable Chico body shop. There are some factors to consider when you pick a company to fix your car. You want the repairs to be done professionally while at the same time at an affordable price.
Expert Auto Body Repairs
When you choose a Chico body shop you should consider a few factors. First and foremost, the Chico body shop should provide professional repairs that are done in accordance with manufacturer's requirements. In order to be considered a qualified shop or to be called "certified" it must meet standards that are published by APCC, Assured Performance Collision Care. They are a not-for-profit consumer advocacy group that helps protect customers from fraudulent or deceptive business practices. Only shops that meet or exceed their strict qualification are allowed to be a part of the Assured Performance Network and APCC.
Before you agree to repair work it is essential to obtain an estimate for work. In most cases, an initial estimate will take no longer than about 15 minutes for drivable cars. Non-drivable vehicles may require more time because of extensive damage. Your vehicle may be towed to our location for an estimate. Once you obtain a written estimate you can decide to move forward with repairs. If you have any questions our experienced representatives will be happy to explain all of the information contained in the estimate.
Extra Amenities Make the Difference
Not every Chico body shop treats its customers to amenities. One of the most important is the availability of delivery and pick-up options. When you drop off your vehicle you can take advantage of complimentary shuttle service to get you where you need to go while you car is in the shop. If you are renting a vehicle while your car is being repaired the shuttle will take you to the rental company. We partner with Enterprise and Hertz for simple car rentals at our locations.
Alternatively, the repair shop will arrange to pickup and deliver your vehicle in some instances. These are helpful amenities that will also save you time and money. Working with the insurance company can be difficult and frustrating. At Collision Pros, Inc. we have worked for years to establish relationships with all of the major vehicle insurance providers. We will gladly assist you by negotiating with the insurance company to agree to a resolution that is beneficial.
Collision Pros, Inc. offers high quality auto body repairs in Chico and nearby locations. We offer fast, professional estimates and our repairs are always done properly. Our repairs include a lifetime warranty that is in place for the entire time you own your car. When you need to have repairs made to your vehicle, call Collision Pros, Inc. or visit our website at CollisionProsInc.com to learn more about our expert services.
Chico Body Shop
Collision Pros Inc.
(530) 885-3320
3760 Grass Valley Hwy, Auburn, CA 95602
View Larger Map