Schedule an appointment at one of our Tesla certified shops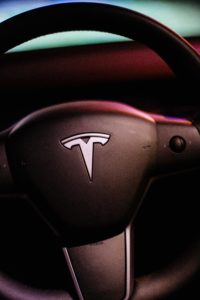 Tesla's are a very high tech piece of machinery that takes a very special body shop to repair. If you need collision repair work done, you do not want to take it to just any shop. It takes a special shop with the proper training, equipment and knowledge to restore your Tesla back to its pre-accident condition and retain your Tesla warranty and the full value that your car had prior to the accident. There is a big difference in a Tesla certified body shop.
Factory Training
Collision Pros made the decision early to invest in the training to become a Tesla Certified Body Shop. This is not small undertaking. Less than 1% of shops receive the Tesla certification. All Tesla certified collision repair shops need to be trained by Tesla as well as maintain I-CAR certification to repair a Tesla. Collision Pros technicians are specifically trained on each of the Model S, Model 3, Model X, and Model Y.
Factory Parts
Collision Pros only uses Tesla factory parts. You will never receive anything other than the parts made by Tesla and recommended for your car. Only factory certified shops can buy certain parts to repair your car correctly. You do not want to lower the value of your car and possibly void the warranty with anything less than what it came from the factory with.
Factory Repair Methodology
Only Tesla factory certified body shops have access to the repair methodology to repair your car to the way it must be repaired. It may seem odd that Tesla would not want to provide this information to everyone, but it's not. It's as simple as Tesla does not want any unqualified, untrained body shop to work on your car. To maintain the cars safety and value, they want it repaired 100% by their high standards.
Computer Scanning and Resetting
Your Tesla vehicle is a rolling computer. The amount of computers and computer generated decisions that go on in a Tesla is mind boggling. To make a vehicle that is smart enough to safely drive its self, is clearly on the cutting edge of technology.
When your Tesla is in an accident or being worked on, it continues to compile information and throw default codes. It is imperative to the proper operation of your car that you reset all of those codes. Only a factory certified collision repair shop can tie in with Tesla and reset your car to factory settings. Any other shop is using a non-factory scanner and can cause significant damage to the operating system of you Tesla.
So if you have been in an accident in your Model S, Model 3, Model X, and Model Y and you want to be sure that you are maintain the safety and value of your investment in the wonderful vehicle, and you live in Northern California, choose one of the Collision Pros locations to help you.