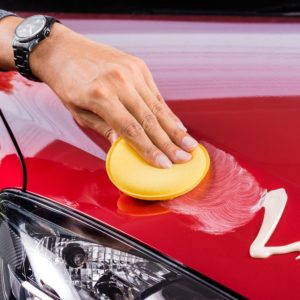 One of the more common questions we get is "How do I treat new paint after a repair?" In most situations when you take your car into an auto body repair shop it will involve some repainting. After your car gets new paint it is important that you follow a few steps to make sure that it holds up and doesn't void your lifetime warranty.
Your car is mostly painted with a two-stage method. These products are sprayed on with a spray paint gun. In order to get the paint to spray out of the gun well they use paint thinners to increase the paint viscosity. These thinners are only used to apply the paint and must come out after the paint is applied. The thinner needs to evaporate out of the paint after its been applied. This process can be greatly helped by the use of a heated paint booth. Most of these paint booths have a 1,000,000 BTU baking oven that will increase the temperature of the car above 150 degrees. This process helps remove the paint thinner and get the urethane to go through a molecular change that is so important for your finish to be tough enough to give a lifetime warranty.
Even if your car has been baked in a heated booth most paint manufacturers recommend a few basic instructions for the treatment of your paint after a repair for the first 90 days.
The First 30 Days
a) Wash your car by hand
While the paint may feel hard, it's likely still getting harder. The harsh chemicals and brushes used by a commercial car wash are just too harsh for the first month after you get your car back. Instead wash your car by hand with a good car wash soap and clean sponge or towel.
b) Don't park under Tree's
Parking under a tree is never a great idea. You have two problems. Bird droppings and sap can cause paint damage. Even on cured paint, the acid in bird droppings and sap can damage your paint and eat it clear down to the metal. If you do get either of these on your car use soap and water and remove it as soon as possible.
c) Avoid extreme heat from the sun.
For the first few days your car is likely allowing the most amount of chemicals to escape. The extreme heat in an uncontrolled environment can cause solvents to trap inside and either cause solvent pop or die-back. Neither of these are conditions you want in a new paint job.
2. The First 90 Days
You do not want to use a wax or sealer of any kind for the first 90 days. The wax or sealer can seal off the paint and prevent the solvents from evaporating. By preventing the solvents from escaping you can cause all kinds of problems with your paint. After 90 days it's always a good idea to use a good wax.
If you have any more question's, ask at any Collision Pros location in Northern California. Collision Pros has location in Auburn, Chico, Paradise, Red Bluff, Woodland and Loomis CA.