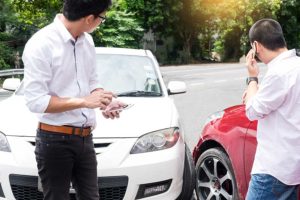 We all buy car insurance to protect us against accidents and to avoid paying large claims out of our own pocket. Auto body repair can be very expensive and is often required to be done per the financing company contract. When in an accident you will likely be asking yourself, "Should I turn in a claim or pay out of pocket."
There are different types of insurance coverage that protect you in different situations. If your car gets damaged by a falling tree, its covered by your comprehensive insurance. A comprehensive claim will not increase your future premiums. If you are considering paying out of pocket, you'll most likely be in a situation where you have caused the accident.
When you turn in a liability claim with your insurance, for an accident that you caused, you will most likely see an increase in your premium. Some insurance policies allow for a single claim every so many years without having a rate increase. You should check with your insurance company.
For claims where you are at fault, you will almost certainly have a deductible. To determine if you should turn in a claim, you'll have to know what the deductible amount is. In some cases, it may cost less than the deductible to pay for the repair. In those circumstances you should not turn in a claim.
However, sometimes that can cause you further issues. Here are a few items to consider before filing a claim.
Was anyone else involved in the accident?
If another party was involved in the claim or there is an injury, you really should turn in a claim. Even though the other party may be easy to deal with at first that could change. They could realize they have an injury that is more extensive than they thought. They could realize the damage is more extensive and the costs soar. You could be opening up an entire legal problem you hadn't planned on. If you notify your insurance later, you are likely to get denied for not allowing them to be involved in a reasonable time.
What's the cost to repair vs the deductible?
If you were in an accident that didn't involve another party or a lot of damage, it's more likely a job that you pay out of pocket for.
If you have a scratch or small dent that cost $600 to repair and you have a $2,500 deductible, it may be wise to pay out of pocket.
The majority of customers, that haven't had a lot of experience with accidents, find the cost of the repair to be higher than they expected. You will want to get a true assessment of the damage cost to repair. You should mention that you may pay out of pocket and that you want to know any possible additional costs. Often there is damage internally that is hard to see without disassembly. A shop should be able to tell you if that is likely when you get an estimate.
If I'm not filing a claim, should I tell my insurance company?
If you are in an accident and report it to your insurance company as a no cost claim, it should not raise your rates. Your agent should be able to tell you how your policy reads with regards to that.
If you do not tell your insurance company it may cause you big issues later on down the line. If you were in another accident and it was due to something not repaired correctly and your insurance wasn't involved, they would not cover you. If someone were hurt, the damage could be very expensive.
You wouldn't likely have risks on small cosmetic repairs, but on larger damage repairs, be careful.
Can I avoid premium increases after an accident?
All claims don't cause an automatic increase in your premiums. It depends on the type of accident and also some policies have an accident forgiveness program for low loss frequency. This is a great feature in a policy that you should look for when you are looking for a new insurance carrier. Sometimes you have to pay a little additional, but it is a great value. If your premium goes up, it may be time to shop for another policy, but don't cancel your insurance until you have a quote from another carrier. Some insurance companies will offer discounts for things like, good student, low mileage driven, certain age groups etc.
If you've been in an accident and you're asking yourself, "should I turn in a claim", call you agent and seek their advice based off of the policy that you have. Then armed with a good understanding of your policy and the deductible amount, go to a good body shop and find out what the cost will likely be.
If you are in Northern California and near a Collision Pros in Auburn, Chico, Red Bluff, Paradise, Woodland or Loomis California, come in and let us help you make the best decision for you and your car.