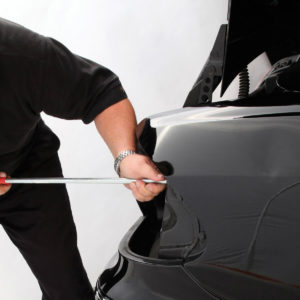 When an accident happens and you need a dent repair, there are two methods to choose from, paintless dent removal (PDR) or traditional dent repair. I'll do my best to explain the difference and when you choose one over the other.

In my opinion, paintless dent removal should be your first choice, when its possible. PDR is for smaller dents in which the paint is not damaged or the dent is not too close to an edge. If the dent is right on an edge, it may have dual walls, have no access from the back or just be too strong in that area. If any of this is true, you have to go to a traditional dent repair.

Paintless Dent Removal

The reason paintless dent repair should be your first choice is, that it is much less expensive than traditional dent repair. This is because there is no paint work necessary. Also, any time you can avoid painting your car, you should. As good as automotive paint has become, there is no replacement for the durability of the factory finish. The paint methods at the factory allow for a superior finish to what we can do at an auto body repair shop.

Traditional Dent Removal

When PDR is not going to work, you'll have to do regular dent repair or replace the panel. For traditional dent repair the technician will remove parts to get access to the back of the panel or use a stud gun to weld small tabs on the metal to pull it from the front. After that, the paint will usually be removed and a thin coat of plastic filler will be applied. Once, the plastic filler has cured it is sanded and formed to duplicate the undamaged panel. Finally, the car is primed and painted to match the original finish. In most cases, to match the factory color, the adjacent panels will have to be blended.

If you've had an accident and you are trying to decide which is the right dent repair for you, go to any Collision Pros in Northern California in Auburn, Chico, Loomis, Woodland, Paradise or Red Bluff. They can help you make the right choice for your car. All of the work at Collision Pros has a lifetime warranty and you can count on our technicians to use the best materials and latest repair methods.